If you've never used the Preacher Bench for Shoulder Presses, you're missing out on one of the most effective Shoulder Press variations you can do.
Start by setting the arm pad of the Preacher Bench low. Now sit backwards on the seat (compared to the regular forward Preacher Curl position) with your back pressed against the pad. The top edge of the arm pad should be pressed against the upper section of your lower back.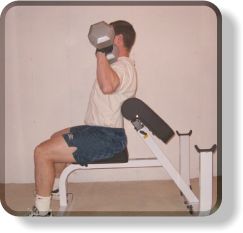 All you need to do is add a pair of dumbbells and you've got a Shoulder Press station that is, in my opinion, better than any single dedicated Shoulder Press station that I've ever used.
In a regular Shoulder Press station, the back pad is flat and your upper back is pressed against it. Even if the pad is tilted slightly back at an angle, this leaves the lower back completely unsupported during the movement.
This is the biggest downfall of every Shoulder Press station I've tried. The lower back support is sorely lacking, which is not good on an exercise that puts so much pressure on the lower back.
When you use the Preacher Bench, the top of the arm pad pushes directly into the lower back area and the upper back area is completely free.
This unique position not only supports the lower back, but allows you to maintain an arch in the lower back as you're doing the exercise. This dramatically decreases the stress on the lower back during the exercise and this, in my experience, can lead to immediate increases in the amount of weight a person can use for the movement.
You get a safer movement and the ability to use more weight immediately.
Learn more tips for Seated Dumbbell Shoulder Press here.

 More From Fitstep.com
---
Home -> Exercise Library -> Shoulder Exercises -> Seated Shoulder Press
---