If you're strong on the pushdown exercise, you may notice that you get to a point where your bodyweight is not enough to allow you to push the bar down without forcing you to lean forward into the movement, which can place stress on your lower back.
The solution: wear a dipping belt with a 45-lb weight plate or two hanging from it.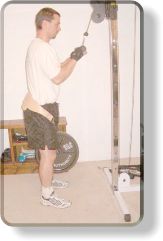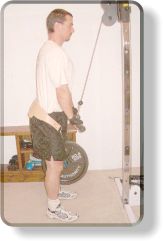 This instantly increases your bodyweight, balancing out the resistance, allowing you to use far more weight on the pushdown while maintaining the ideal body position. No more lower back stress.
Learn how to perform regular Tricep Cable Pushdowns here.

 More From Fitstep.com
---
Home -> Exercise Library -> Tricep Exercises -> Loaded Pushdowns
---