If you've been looking for a good bodyweight exercise to target your upper chest, and you're a bit nuts like me, this is an exercise you're going to want try.
I can honestly say, I've never felt my upper chest activate like this before. It's like doing four upper chest exercises at the same time. I managed to do a set of 5 or 6 reps before pancaking on the floor and it was BRUTAL.
Here's the setup.
First, hitch two thick training bands to the bottom of the cable cross-over stack uprights (or you can use anything solid that's far enough apart). Kneel down in the center and put your forearms through the end loops of the bands so that when you bring your arms in, the bands stretch and exert constant inwards tension.
This is my recommended source for training bands. (Note: Use Coupon Code "rbtfitstep" to get 10% off your purchase of a band package)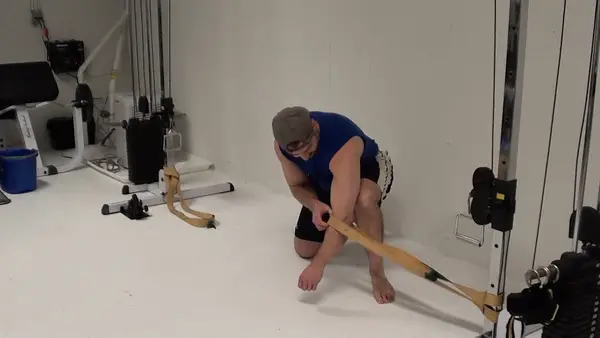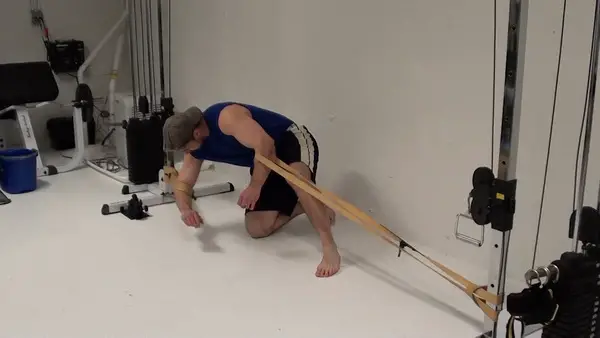 Now set your hands on the floor in the push-up position, about a foot or so forward of the mid-line so that when the bands stretch, it's at an angle that puts direct tension on the extreme upper pecs.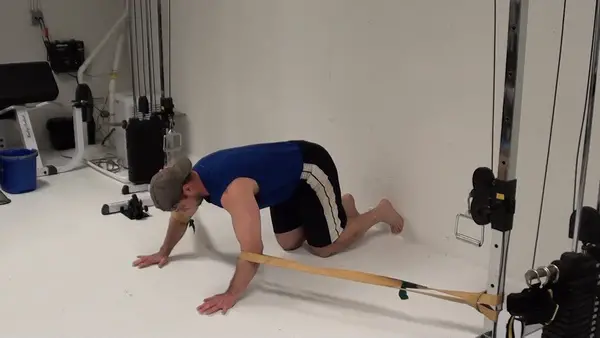 Not done yet...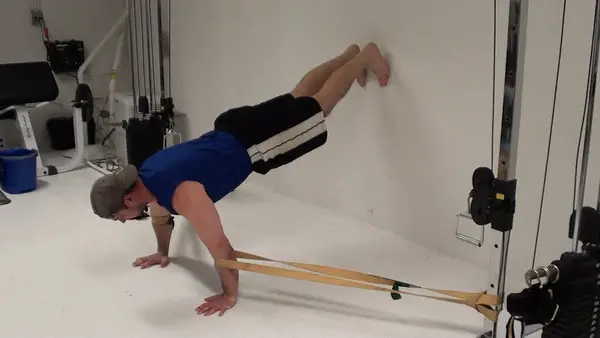 Elevate your feet...not on a bench but flat on a WALL so that there's no vertical support. In order to keep from falling off the wall, you have push hard BACKWARDS against the wall with your upper chest, arms and shoulders...which again puts even more tension on the upper chest. At the same time, you have to exert constant force with your feet and legs FORWARD to keep locked in on the wall.
If you don't have a wall in a good place you can absolutely still use a bench and put your feet up on that. What I like to sometimes is use an adjustable incline bench and hang my feet over the top end of the bend to get a higher elevation than what's possible with just the bench surface itself.
You can also keep your feet on the floor...as long as your hands are set forward of the mid-line between the objects your bands are hitched on and you get a forward angle for tension, you'll still hit the upper chest.
Back to the exercise.
Once you're locked into position...now do a push-up...(yeah, seriously, do a push-up).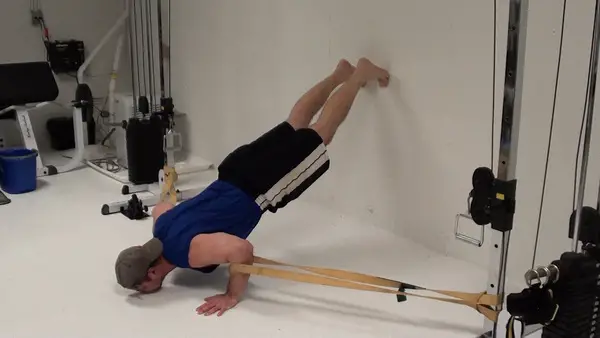 If you've got a set of bands and something solid (like cable cross-over machines) you can hitch them onto, this exercise is DEFINITELY one you're going to want to give a try.
It lit up my upper pecs like nothing I've ever felt before.
The combination of multiple forms of resistance, angles of resistance and using a closed-chain bodyweight movement will torch YOUR upper pecs like crazy, too.
Be sure to follow me on Instrgram for more exercies like this.
Learn how to perform Lateral Walking Push-Ups here.

 More From Fitstep.com
---
Home -> Exercise Library -> Chest Exercises -> Lateral-Band Incline Push-Ups
---