You can do an excellent One Arm Row with the Flye or Pec Deck machine that rivals and even beats the dumbbell version in some ways.
Stand in front of the Pec Deck or Flye Machine, facing the seat. Take your left hand and grip the outside of the left arm pad/handle. Brace your right hand on the machine frame and brace your right foot on the seat (necessary with heavier weights).
This position mirrors the bottom position of the One-Arm Dumbbell Row. Start pulling the left arm pad/handle around slowly, feeling the tension in the back. Pull the arm pad/handle around and back as far as you can, squeeze your back hard for a few seconds then lower the pad/handle slowly.
Don't allow the weights to touch at the bottom, which will release the tension - use this opportunity to get a HUGE stretch on the lats. This bottom position is one of the best Lat stretches I've ever found AND it's done against resistance, making it even more effective for building the lats. Finish the set then repeat with the other arm.
This movement is useful because, in addition to the great stretch, it also completely eliminates lower back stress on the One Arm Row movement.
All the tension of the exercise is placed on the upper back. You can also change where on your back the exercise hits by changing where you grip the pad. Grip high on the pad to hit the upper back (teres major and rhomboids) area. Grip lower on the pad to hit the lower lat area.
This is the start position for the exercise. Note how the hand is braced against the top frame and the foot is braced on the seat.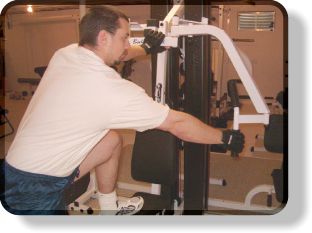 This allows you to reach forward and get an excellent stretch on the lats at the start of the movement.
This is the contracted position of the movement. Get a strong squeeze at this point and hold it for a few seconds.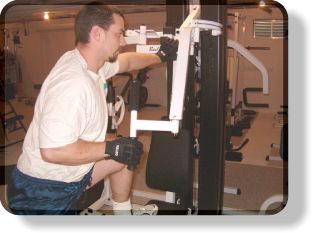 Learn how to perform One-Arm Dumbbell Rows here.

 More From Fitstep.com
---
Home -> Exercise Library -> Back Exercises -> Flye Machine Rows
---