This technique is a simple way to put additional resistance onto the six-pack abs during a crunch.
A good way to get more resistance when doing a regular crunch is do them with your feet placed up on a wall about two feet up (feet flat on it) and your knees bent about 90 degrees.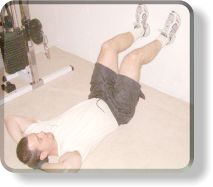 As you crunch up, push hard against the wall.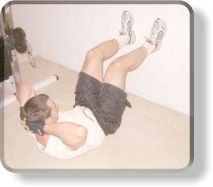 This will activate the abdominals from the other direction, allowing you to work against the resistance provided by your feet pushing back.
This technique is very useful when travelling providing a more effective ab workout.
Here's how to perform a regular Abdominal Crunch for the six-pack abs.

 More From Fitstep.com
---
Home -> Exercise Library -> Abdominal Exercises -> Feet-On-Wall Crunches
---