The Rotator Cuff is a group of muscles that work in the shoulder joint to keep the humerus from dislocating. This makes the Rotator Cuff critical for shoulder stability.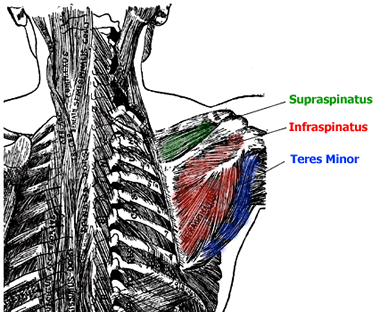 Anatomy Chart courtesy of FCIT

There are four muscles in the Rotator Cuff: the Teres Minor, the Infraspinatus, the Supraspinatus and the Subscapularis (not pictured - it lies on the front aspect of the scapula)
These muscles all work together to keep tension on the humerus, locking it into the shoulder joint.
The Rotator Cuff is one of the primary areas of shoulder trauma; when someone has a shoulder injury, chances are very good that is related to injury in the Rotator Cuff.
This trauma can be due to sudden injury or can be from overuse in undesirable movement patterns. The upright row exercise is a prime example of this undesirable movement pattern.
Functions of the Rotator Cuff Muscles
The main functions of the Rotator Cuff muscles are shoulder joint stabilization and external rotation of the humerus (rotating the arm to the rear).
Rotator Cuff Exercises
Exercises that work the Rotator Cuff include:
Lying side raises
L-flyes
Cuban Presses
Three-in-one raises
Cable L-flyes

Visit the Shoulder Exercise Index for movements that target your shoulders.

 More From Fitstep.com
---
Home -> Exercise Library -> Muscle Anatomy Index -> Rotator Cuff Muscle Anatomy
---