The Biceps Brachii is attached to the forearm bone called the radius and originates at the scapula in two places.
The Bicep gets it's name from these two heads - called the short head and the long head.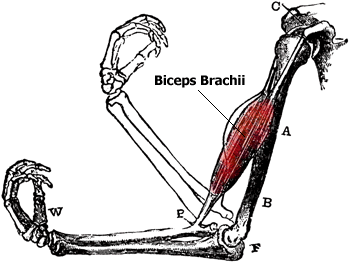 Anatomy Chart courtesy of FCIT
The Biceps runs down the anterior or front side of the humerus and makes up approximately 1/3 of the muscle mass of the upper arm.
The Biceps are among the most famous muscles in the body. When somebody asks you to "make a muscle", they aren't asking you to flex your hamstrings. They want to see your biceps!
Functions of the Bicep Muscle
The primary function of the Bicep muscle is to move the forearm towards the shoulder (elbow flexion).
The other primary function of the Bicep is supination of the forearm. This means turning the hand from a palms-down position to a palms-up position.
Biceps Exercises
Exercises that work the Biceps include:
Alternating dumbbell curls
Cable curls

Preacher curls
Behind-the-head pull-ups
Visit the Bicep Exercise Index for more exercises to work your biceps.

 More From Fitstep.com
 

Share This Page...

---
Home -> Exercise Library -> Muscle Anatomy Index -> Bicep Muscle Anatomy
---