1. Overhead Tricep Stretch
Raise one arm overhead then bend it down at the elbow as though trying to scratch your back. Use your other arm to push your stretching arm backwards slightly.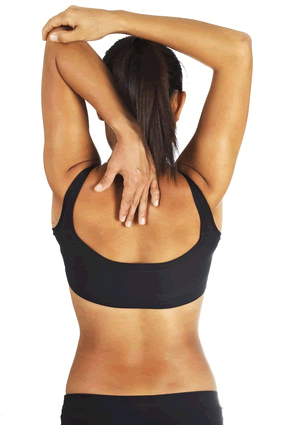 Be careful with this stretch not to pull your upper arm past vertical behind the head to the other side. This overstretches the shoulder joint
2. Underbar Tricep Stretch
Put your hands on a medium or low bar, palms down. Push your head underneath the bar and stretch the triceps. Push forward with your feet to get more stretch. Keep your elbows in tight to your head.

 More From Fitstep.com
---
Home -> Fitness For Beginners -> Stretching -> Triceps
---