The single most common reason people give for not eating well is that they don't have time.
They don't have time to plan out, get the ingredients, or prepare healthy, balanced meals.
I get it...I run into the same issues myself! I'm not much of a cook and I end up making the same meals over and over because they're easy and I know how to make them.
There IS a better way to eat well, especially if you're following a Paleo Diet...
The service is called Pete's Paleo....created by a guy named...well...Pete (who happens to be a classically trained Le Cordon Bleu chef).
He focuses on offering seasonal meals that use fresh foods from high-quality, sustainable sources.
Always dairy, soy and gluten free
Shipped fresh, not frozen
Pete's Paleo offers "ready to heat and eat" meals...there are no ingredients or recipe cards to follow. You literally just pop the meal in the microwave for a minute or so, let it cool a bit, then you're ready to eat.
The overall goal is make it easier and more convenient to eat Paleo...and make it delicious with great variety at the same time.
My Experience with Pete's Paleo...
When my box of meals from Pete's Paleo arrived, I was impressed with how they're packaged and shipped. You'll receive a box that looks like this...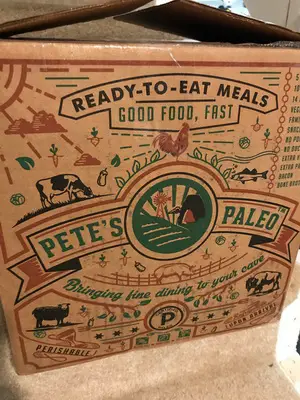 The first meal I tried was BBQ Brisket with Sauteed Greens and Sweet Potato Mash. This is what it looks right out of the box...you can see the shiny, thin plastic wrap that is vacuum-sealed over top of the food.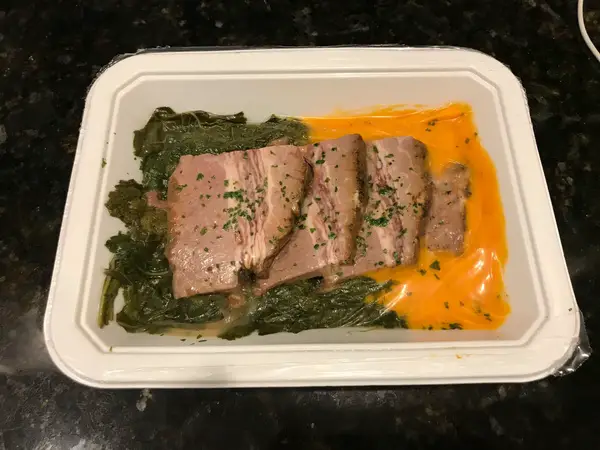 Without removing that wrap, you microwave it for 90 seconds. The plastic will expand as the steam from the food heats up. Wait for the wrap to sink back down, remove and you get this: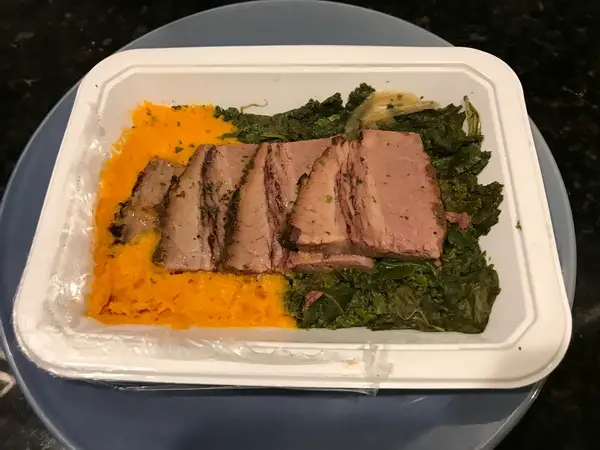 It was absolutely DELICIOUS.
Everything in the tray was good (and believe me, I ate it ALL).
Here's a look at the nutrition label, to give you an idea of what you'll get....just look at the ingredients. All REAL food...no preservatives or additives at all.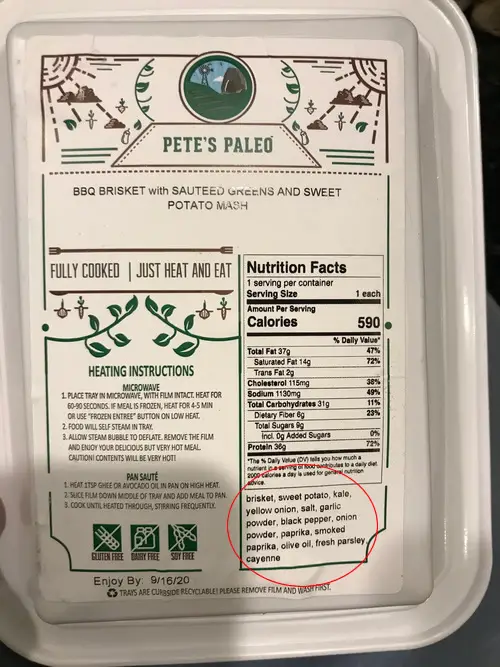 The next meal I tried was Ropa Vieja with Cilantro Cauliflower Rice and Maduros.
And, being honest, I don't really know what most of that is, but it was awesome :).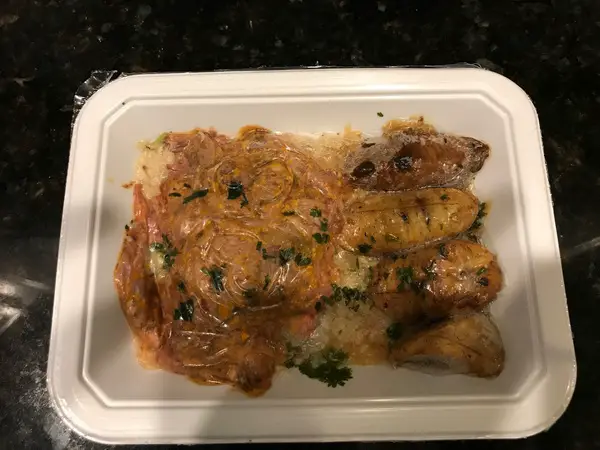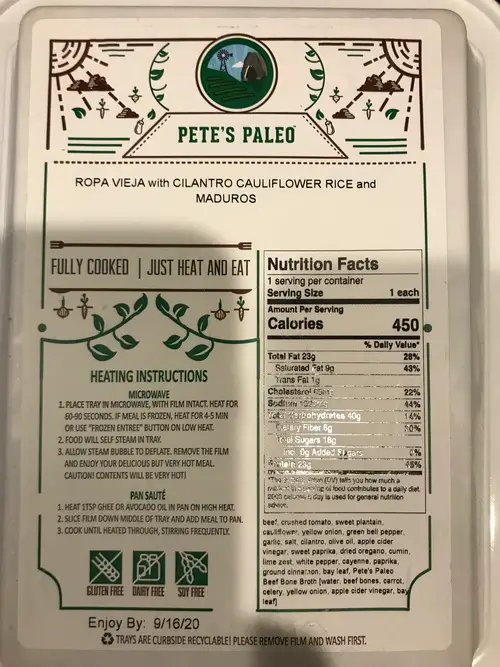 This is the kind of thing I'm talking about when it comes to meal prep and cooking skills.
I don't even have the skills to know what it is that I want to cook, much less cook it. And by having chef-prepared meals, you don't have to worry about gathering ingredients that you've possible never even heard of.
Any Downsides?
For me personally, I eat a LOT, so the serving sizes were on the small side.
But take that with a grain of salt, because when something says it serves a family of four, it serves me (not kidding).
In my opinion, the serving sizes are perfectly reasonable to most people...I'm a special case.
If you don't want to prepare the meals in the microwave, you can also heat the food up in a pan, which does take a few extra minutes, but that's not much of a hardship.
Other Paleo Products
Pete's Paleo also offers bone broth, made using bones from animals that were humanely raised on open pastures with clean diets free of antibiotics, hormones and grains.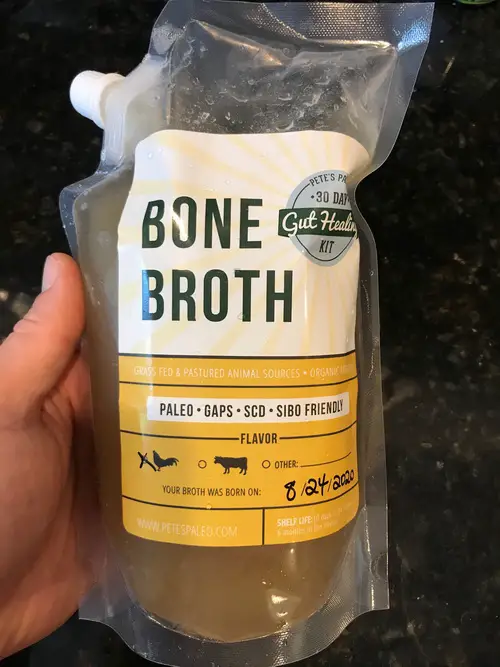 And they offer natural bacon... made using no preservatives or sugar. FYI, this picture isn't from my kitchen...I'm not that talented of a chef :). The bacon is really tasty, though. I sliced up and cooked an entire package of it for dinner one evening.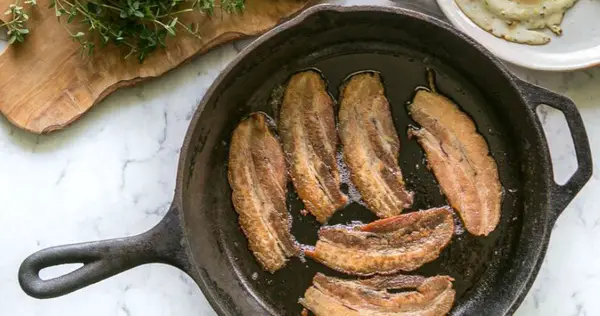 How It Works
It's very simple...you put in your order by Monday evening.
They prepare everything fresh.
You receive it by Friday, ready to eat!
Because the meals are vacuum-sealed, they do last a good amount of time in the fridge (about 7-10 days or so...the "eat by" date will be printed on the label).
You can choose to subscribe to get automatic deliveries, or choose to order only when you want to get meals
You can choose form a variety of sizes (5, 10, 14, family size with 5 meals of 4 servings each).
You can choose to add double protein (I like this option a lot!),
You can add extra sides
You can choose if you want to have pork or not
You can skip weeks, change meals, and cancel any time.
The Bottom Line...is "Done For You Food" Worth It?
Honestly, it depends completely on your lifestyle.
You may have plenty of time to cook and prepare meals, plan out menus, etc.
If you don't, a meal service like this is fantastic.
It gives you excellent, real-food options (other than fast food or cereal) that can be ready in just a matter of minutes.
And, having tested Pete's Paleo meals, you absolutely can't go wrong with them. I highly recommend it, even if you're not on a Paleo Diet.
If you ARE on a Paleo Diet, this is right up your alley.

 More From Fitstep.com
---
Home -> Fitness For Beginners -> Recomended Fitness Resources -> Pete's Paleo Review
---