By Krisna Garcia

If you are quite active or if your career requires you to move frequently from one place into another your metabolism burns calories faster than expected, that is why most likely you'll sweat a lot! From an active lifestyle into your usual casual or smart formal attire, it's kinda hard to look for the best versatile clothing that will match your shifting activities. Well, worry no more and let me introduce you first with a performance shirt!

What is it anyway? These are clothing that is customized artificially, engineered, processed, and designed to meet a certain set of criteria, for example, Moisture management (Moisture wicking & quick dry), U.V. protected, Stain repellency, anti-odor, etc.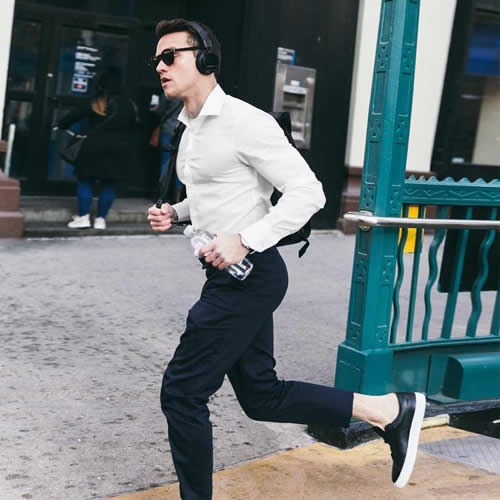 Here are a few key tips that will help you look for the best performance shirt:


1. Moisture Wicking
Are you ever rushing in the morning, arriving to work sweaty and feel sticky and uncomfortable? Chances are a shirt with moisture-wicking properties that could change all of that by drawing sweat away from the skin, keeping you dry and comfortable throughout an all-day hustle. This is all done through an intricate combination of fabrics and the way they are woven together.
A moisture-wicking shirt is one that outperforms its traditional counterpart on those long days, work or leisure. This is perfect for those who are frequently on fieldwork without compromising style and comfort!
2. Material
This will mostly come down to personal preference; however, there are certain benefits to each material that are being used in performance shirts. The three most popular to date being Merino wool, synthetic blends, and cotton synthetic blends. Merino wool comes from the Merino sheep which produce a fiber much softer than regular wool. Not only is it softer it is also naturally antimicrobial, but highly breathable that regulates body temperature and efficiently wicks away moisture.
Synthetic blends tend to be more durable, lighter, and better suited for warmer climates. Cotton on its own is very comfortable when mixed with materials like CoolMax and spandex you get a uniquely comfortable shirt that performs. Each of these materials will perform differently and some better in certain climates.
Please take note to always make sure that you are not allergic to any materials before you purchase your performance shirt. Though most of the stores would process a return it will be best to choose the best and save time for not processing returns.
3. Breathability
The amount of detail that has been going into these shirts is amazing. It's all in the weave. A little space in between and you can feel a slight breeze. Yes in the shirt, It makes a huge difference. Contributed mostly by Four-way stretch material that is also durable and lightweight.
If you were to try on a standard shirt then a performance shirt you would instantly notice a feeling of freedom in the latter. It's a comfort thing and the people behind the tech in performance clothing know what they're doing. Doesn't matter if it is hot or cold out, a breathable shirt is going to regulate your body temperature and keep you more comfortable all day long.
You will definitely not worry too much about your sweat!
4. Packability
Wrinkle-free = worry-free. Being able to pull a shirt out of your suitcase knowing it's ready to go, has no wrinkles and the collar is sharp is a major key for traveling and out of town business trips. Saving time, money and skipping out on the stress of ironing all while looking your best after a long flight.
These shirts are also very lightweight and take up minimal space giving you more space for other important things for your travel. These shorts will help you focus more on what's important while you are traveling!
5. Easy Care
These shirts are easy-going, throw them in the wash and dry them with everything else, or dry clean them. Either way, your shirt is looking fresh and ready to go. Don't have a dryer? No problem! Performance shirts are quick drying. What makes these shirts so easy to clean is that they are also durable.
The fabrics used to make a difference in every aspect of wearing to cleaning. Be just as prepared to perform as your shirts are. This factor is important for those who are always on the go and don't have enough time to wait longer for the shirts to dry. You can focus more on your other task without stressing too much on what to wear.
FINAL THOUGHTS
We have different needs, preferences, lifestyles, and activities before looking for the best performance clothing always make sure to list down all that you need. Take into consideration your body type and how often do you usually sweat with just a few movements. After all, the reason why we are looking for a performance shirt is to perform well without compromising our style!


 More From Fitstep.com
---
Home -> Fitness For Beginners -> Articles -> Performance Shirts
---