By Elena Georgiana
Let's face it...bread is delicious, and who could say "NO" to a freshly made bagel, right from the oven.
I follow a grain-free diet for the most part. Even though there are more and more gluten-free options now available at the stores, they're often still loaded with other health-damaging ingredients like trans-fats, sugar, or even GMO items.

They're very hard to resist. However, as a healthy eating advocate, I decided to create a healthy version of everybody's beloved bagel...mine is gluten-free and dairy-free.
And now we can enjoy them GUILT-free.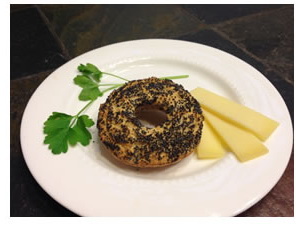 Yield: 12 Bagels
Calories: 64
---
Editors Note: This particular recipe is from my friend, Elena Georgiana, however, if you are interested in even MORE "carb-like" recipes like this, check this out...
You can get a free bread and pasta "Keto Carbs Cookbook" here (just cover shipping)
This book is full of bread and pasta recipes that you'd THINK would be packed with carbs but are actually keto and low-carb friendly.
It's kind of mind-blowing, actually, but having tasted the recipe below, I know it's absolutely possible.
---
Ingredients for Gluten-Free Bagels
1/2 cup of organic coconut flour *
2 tbsp. psyllium husk
1 tbsp. golden whole flax seeds
1 scoop unflavored protein
1 cup egg-whites;
Pinch of salt
1 tsp. baking powder
½ tsp. baking soda mixed with 1 tbsp. vinegar
1/8 tsp. guar gum
2 tbsp. organic coconut milk (full fat please; do NOT use diluted version, as all the goodness of it was removed) *
1 cup water
Sesame seeds and poppy seeds to sprinkle on top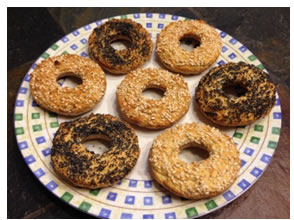 Directions for Making Gluten-Free Bagels:
Preheat your oven to 370 F

Grease a doughnut pan with a bit of coconut oil
Mix all the ingredients together; ensure that there are no clumps; you could use hand mixer or any other blander of your choice

With a spoon spread the bagel dough into the doughnut pan (half-way or ¾) and sprinkle the top of your bagels with sesame seeds and poppy seeds, or any topping of your choice

Bake for 25 min or until fully baked

Turn oven to broil and continue baking till your bagels are golden (it takes me about 3 min max in my gas oven).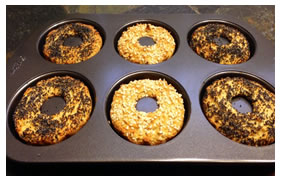 (Note: if you don't have a doughnut pan, you may be able to find out at an arts and crafts store like Michaels or Hobby Lobby. You can also use a mini-Angel cake pan, if necessary)
* It's a common misconception that saturated fats are bad for you...saturated fats can be very good for you (from natural sources of course). They are not only necessary for important healthy physical function, but also for hormone production, cell membranes, your immune system, brain, nerves and more. Saturated fat that comes from coconut milk, coconut flour, and coconut oil...it's actually one the healthiest fat source on a planet.
However, the media, the big food industry, and doctors spend millions of dollars every year trying to convince all of us that saturated fats are "fattening" and that you should avoid them if you want to lose belly fat.
Learn how to make no-grain, gluten-free, low-carb bread next.

 More From Fitstep.com
---
Home -> Fat Loss -> What Do I Eat to Lose Fat -> Gluten-Free Bagels
---